Concrete pool conversion to fibreglass
Bracing and emptying
The team at Perth Fibreglass pools can transform your tired concrete pool in to a vibrant, easy to maintain fibreglass pool by preparing and bonding a new fibreglass shell to your existing concrete pool.
Sound simple? That's because it is.
Let's take a look at the process so you know exactly what to expect when it comes time to convert your pool.
If a pool full of muddy water is holding you back from making the change, don't worry. Any pool water can be emptied through our high powered pumps. We have over 100m of pipework, so big blocks and long driveways are a breeze. We also have a specialised pump for dirty water.
The process is so fast that typically a 40 000 litre pool can be emptied in 2.5hrs!
Additionally, the great thing about concrete pools is that they don't move when emptied like a fibreglass pool, so there's no bracing or additional support structure to build.
Covering the site for safety and cleanliness
We offer a Clean-Site Guarantee, so one of our first steps is to erect large tarps over the pool that will remain until we unveil your new pool. These tarps keep us protected from the weather while we're working and also prevents dust or debris escaping from the work site. It also allows your pool's new top coat to cure perfectly without being affected by UV.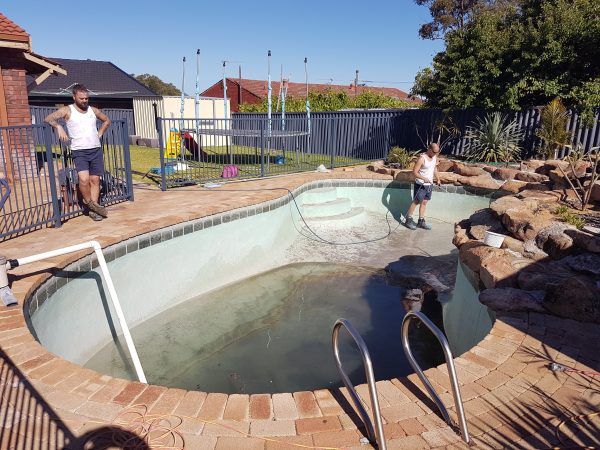 Preparation
At this stage the concrete/render surface of your pool is now ground back to achieve a perfect surface for the new layer. All hollow patches in the render, cracks and broken tile work is repaired and also sanded back.
Next, we prepare the tiles, the surface area around jets, skimmer boxes, pool lights, steps and the top circumference of the pool. Then, we apply a Derekane based vinyl ester resin as a "wash coat"
This resin is perfect for concrete pools and will soak in to to the concrete or plaster work making sure that the new fibreglass layer will not delaminate.
It is vital that the resin used at this stage is of good quality to ensure a long life for your pool and we use only the best.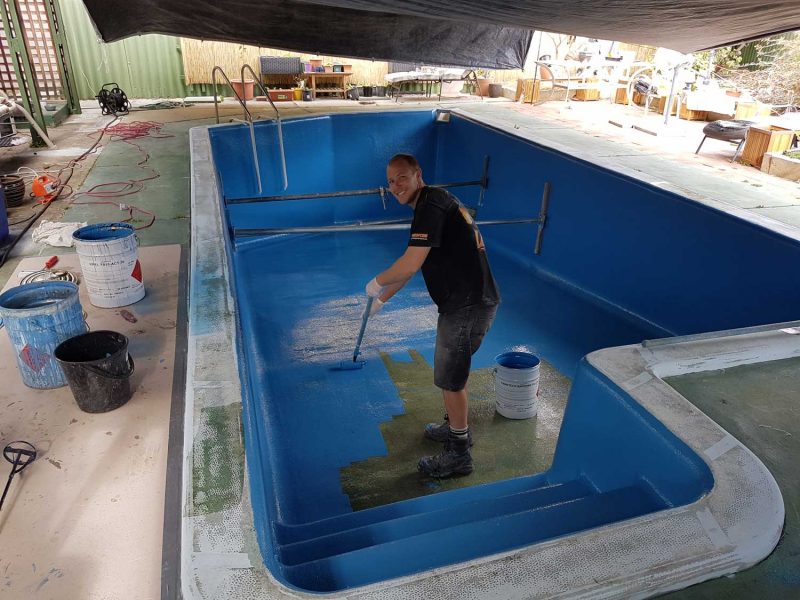 Fill Coat Layer
Once the cured fibreglass layer has been applied, we lightly sand it to eliminate any sharp edges.
Next, a layer of FIBRETECH vinyl ester fill coat is applied with rollers to the entire pool to fill any small gaps between the fibreglass matting. It also acts as a great chemical barrier and an important primer ready for top coat. The fill coat is left to cure and then sanded back to give good key.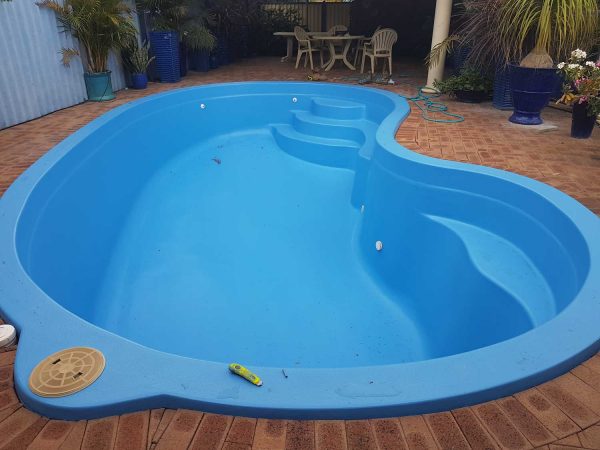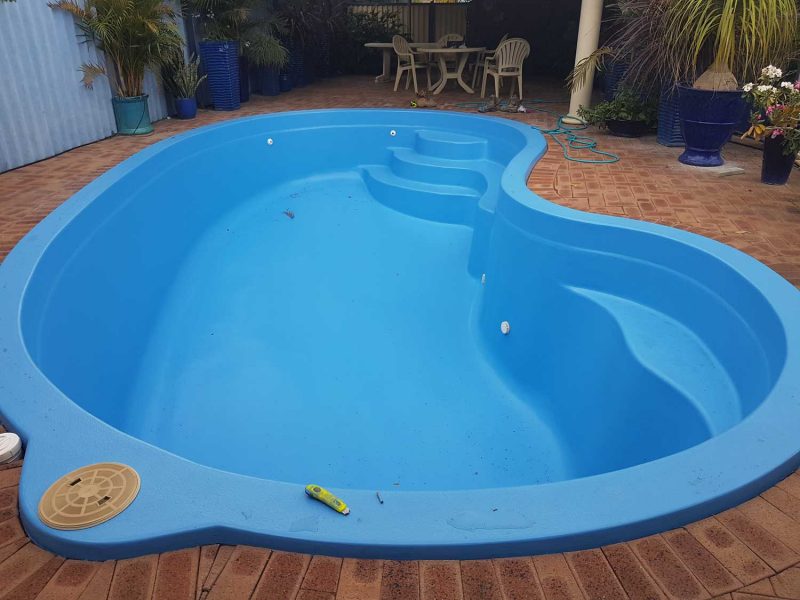 AQUAGUARD Finishing Top Coat
The final layer applied to the pool is the Aquaguard coloured top coat. The top coat is applied with 180mm high quality rollers and brushes. We take great care to ensure the top coat is correctly applied, then measure the ambient temperature, moisture levels, and heat spots within the pool.
We allow the top coat to cure naturally to ensure the wax rises to the surface before we remove our tarps.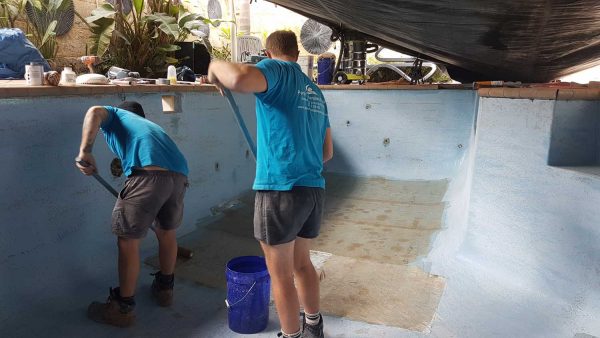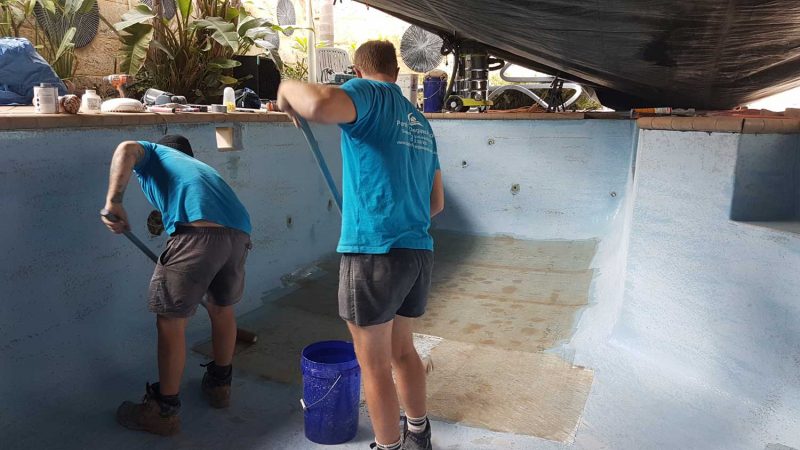 Fibreglass Layer
Perth Fibreglass Pools have proudly developed a unique locking system that ensures the new fibreglass layer remains bonded to the existing concrete shell for the duration of the pools life. ​
This layer of fibreglass is applied to the entire pool and adds strength, acting as a solid protective barrier from future osmosis and black spot.
We use a base layer of vinyl ester resin, followed by 300gsm – 450gsm fibreglass matting and and another layer of vinyl ester resin.
Applied with 180mm rollers, the resins consolidate through the matting and bond to the original shell. Double layers can be applied in weak areas of your pool for extra strength.
What does this mean for you? A durable and impeccably finished pool that will last you for many years to come.


Final Preparations
Before the top coat is applied, the team scrutinise their work, looking for imperfections or defects. We repair and smooth out anything we feel necessary to achieve a great finish.
At this stage we apply our unique non skid system to the steps and edge beams. The outer edges of the non skid are taped to give prominent lines, thus producing a great, professional finish to the pool.


Finished
The team will give a final inspection of the pool and remove the tarps.
We clean the area and take away all rubbish.
Leaving you with a vibrant new pool surface that will rejuvenate your outdoor area for many years to come