Due to high demand we are only taking email and contact form enquiries. Please contact us through the website or via our email address info@perthfibreglasspools.com.au We will endeavour to get back to you as soon as possible. We are no longer taking on large fibreglass pools. We are specialising in concrete/vinyl pool conversions to fibreglass.
WELCOME TO PERTH FIBREGLASS POOLS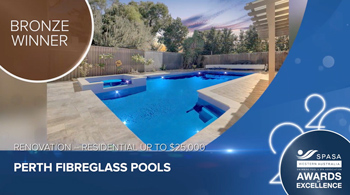 Two highly experienced fibreglass laminators and pool builders started Perth Fibreglass Pools in 2014. Today the company has progressed in to one of the most trusted pool renovation and repair companies in Perth and Western Australia.
Nick and the team service all suburbs of Perth and regional WA, travelling to the Wheatbelt, the Goldfields, the South West and even the Pilbara, where they spend two to three winter months renovating pools, mostly in the towns of Karratha and Port Hedland.
OUR SERVICES
Perth Fibreglass Pools specialise in resurfacing fibreglass and concrete swimming pools. We use Aquaguard technology on all projects and strict resurfacing procedures to ensure every project becomes a masterpiece. We aim to give our customers a first class service from start to finish, together with the highest quality of workmanship there is to offer.
AQUAGUARD® FIBRETECH POOL RESURFACING

Perth Fibreglass Pools will only use the highest quality materials on all pool projects. We always use high quality blends of VINYL ESTER laminating resins and the market leader in gel coats which is AQUAGUARD® FIBRETECH swimming pool resurfacing system.
What warranty is in place for my newly renovated fibreglass pool?
For your peace of mind, every pool renovation has a 3-year year workmanship warranty. Every pool also has a 1-year gel coat (Aquaguard manufacturer) warranty. Please refer to out Terms & Conditions.
Please note that gelcoat application issues are extremely rare, and this tends to show up within the first few weeks after filling with water. We encourage you to check your pool upon completion and after you have filled the pool with water. Please contact us immediately if you have any concerns in relation to your pools gel coat. Read more